Are you still worrying about swimming pool filtration, disinfection and other issues? Click for free consultation and answer your questions one-on-one.
AQUA brand swimming pool equipment has always been adhering to the concept of "quality comes from life", and is famous in the swimming pool equipment industry with high-quality products. AQUA brand circulating water pumps and quartz sand filters are the main product series under the AQUA brand name. With professional technology, high quality The quality of the company has won wide acclaim from customers and has become an influential brand of domestic swimming pool equipment.
In order for the majority of customers to purchase real AQUA brand swimming pool equipment, AQUA manufacturers added AQUA to the injection molding of the hot-selling AT series water pumps and the new AU and AK pump housings under the AQUA brand in 2013. Brand logo. (Pictured)

In 2014, the appearance of the AQUA brand quartz sand filter was redesigned, and large-scale laser engraving technology was adopted. The multi-directional valve of the filter was branded laser engraved, which is clear and beautiful, and will not be lost. The AQUA logo is also laser-engraved on the filter base. (Pictured)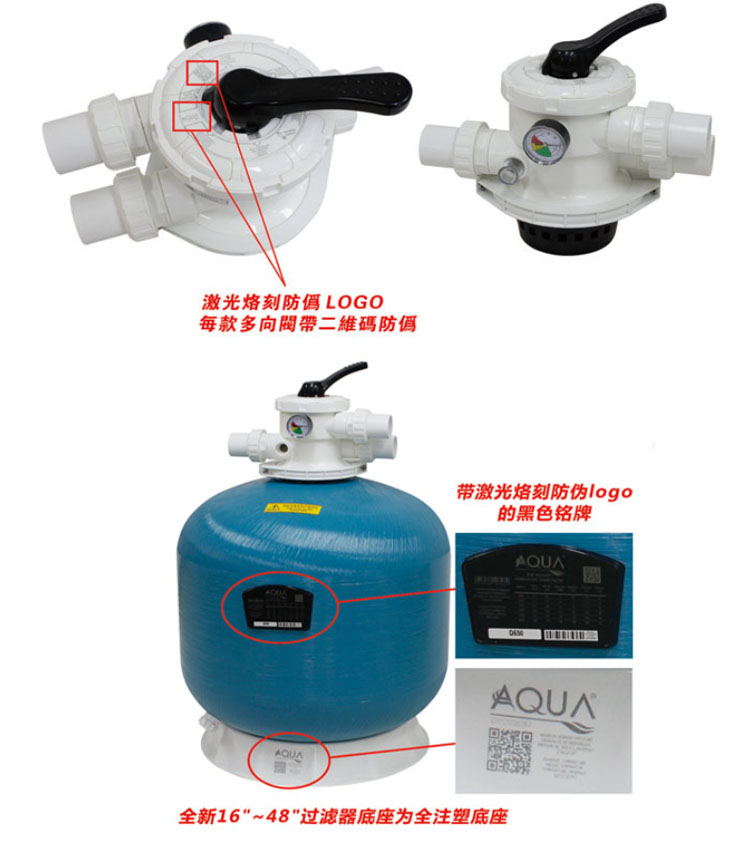 When buying, please look for AQUA brand swimming pool equipment, and don't let inferior counterfeit products have opportunities.